Overview
The Future at Lloyd's will build the most advanced
insurance marketplace in the world.
Everyone working with the market will be able to plug into its platforms to trade simply and efficiently. Capital providers will have access to a range of flexible opportunities to improve their current investment as well as to support new products as they come to market. The market will be underpinned by a diverse and inclusive culture that champions innovation and will attract the brightest people.

We will create a market which attracts new risks, new customers, new forms of capital and operates with materially lower costs. When we achieve this, the market will be bigger and more relevant.
We will create a market which attracts new risks, new customers, new forms of capital and operates with materially lower costs. When we achieve this, the market will be bigger and more relevant.
A refocused Corporation of Lloyd's will uphold the highest service and performance standards, maintain the Lloyd's ecosystem, as well as carry out licensing, regulatory and rating functions on behalf of the market. Together, we will outperform our competitors.
The prospectus set out the four ways this ecosystem will enhance the current Lloyd's market value proposition
Offering even better solutions for our customers' risks
Customers will be able to choose from a wider and more innovative range of insurance products because Lloyd's will promote and facilitate innovation, and will make it even more attractive for innovative underwriters to join the market. Businesses, supported by technology and capital, will be able to bring new products to market quickly, increasing the choice on offer.

Customers will continue to benefit from the market's unrivalled underwriting and broker expertise, and its extensive global licence network.
Simplifying the process of accessing products and services at Lloyd's
Lloyd's will build on the London Market Target Operating Model (LM TOM) work to redesign core activities, making it simpler and more efficient for customers and market participants to trade. The entire insurance lifecycle, from buying a policy to paying a claim, will be transparent and accessible. Customer service excellence will be guaranteed by performance standards and underpinned by Lloyd's trusted global brand.
Reducing the cost of doing business at Lloyd's
We will reduce significantly the cost of doing business. For the simpler risks, we will make the market more efficient by using standardised data, automated processes and administration, and IT solutions that allow market participants to plug directly into Lloyd's ecosystem to trade.

The costs of processing and settling claims will be reduced by using technology to assess losses and automate payments. A services hub will give access to high- quality shared and bespoke services, provided at competitive cost that reflects the brand and size of the market.
Building an inclusive and innovative culture that attracts talented people to Lloyd's
The Lloyd's market will be built on an inclusive culture, and we must all play a part in promoting the importance of diversity within our own organisations and across our market as a whole. A highly skilled workforce will comprise a combination of traditional skills (such as underwriting and claims) with newer skills (such as data science and technology engineering). We will role model these changes within the Corporation, and support the London Market Group's talent initiatives to help the market make this transition.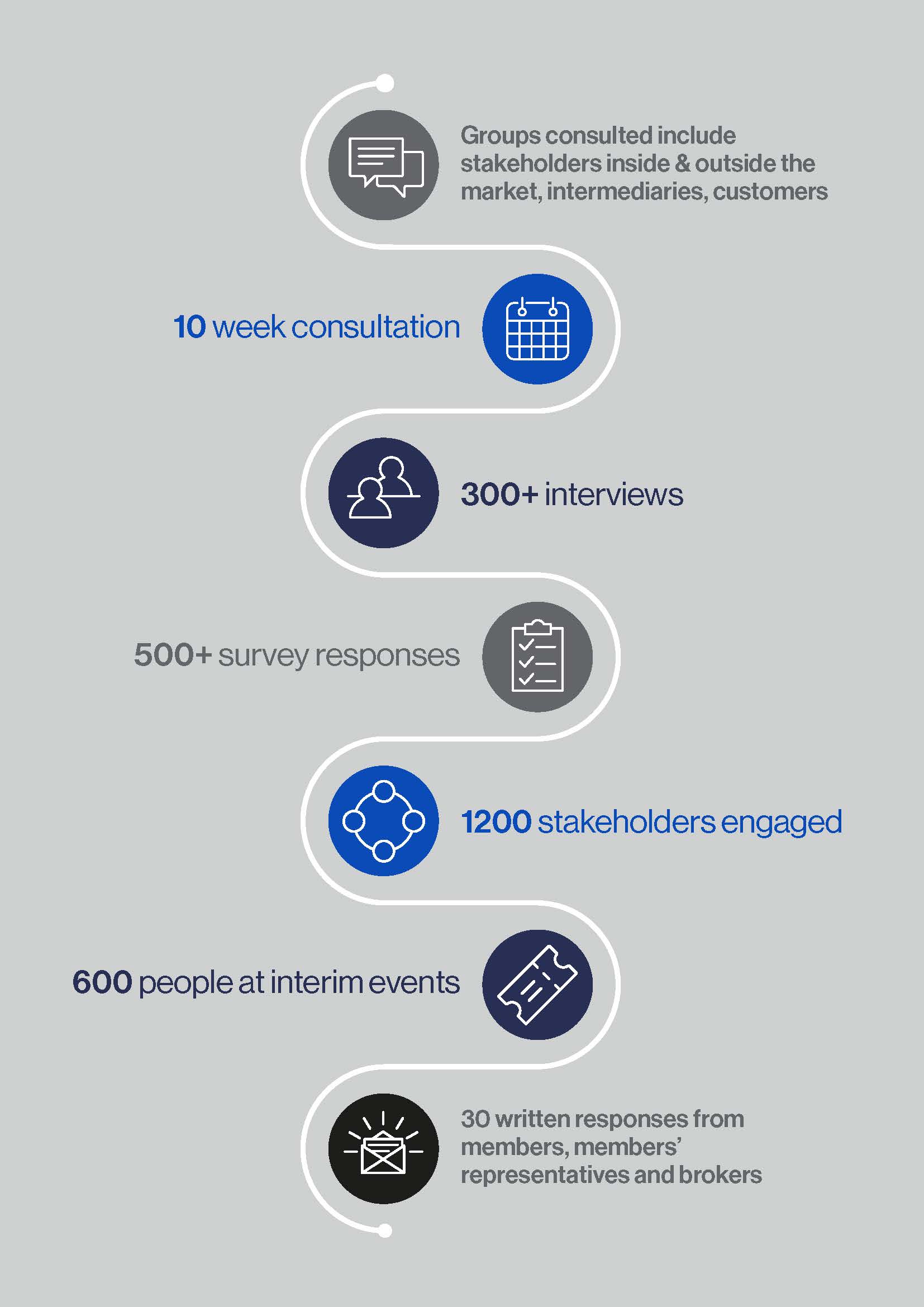 On 1 May 2019, we published our Future at Lloyd's prospectus that set out a vision for transforming the Lloyd's market. In it, we committed to producing a blueprint that showed how we would achieve it.
The prospectus was our response to the sense that Lloyd's, just like the insurance sector in general, is in danger of becoming less relevant and helpful to our customers. This at a time when their needs are changing and we need to improve our performance.
The Future at Lloyd's work began prior to the prospectus in October 2018 with us asking these customers, as well as our managing agents, brokers, coverholders coverholders and capital providers, how we could build a successful Lloyd's market for the future.