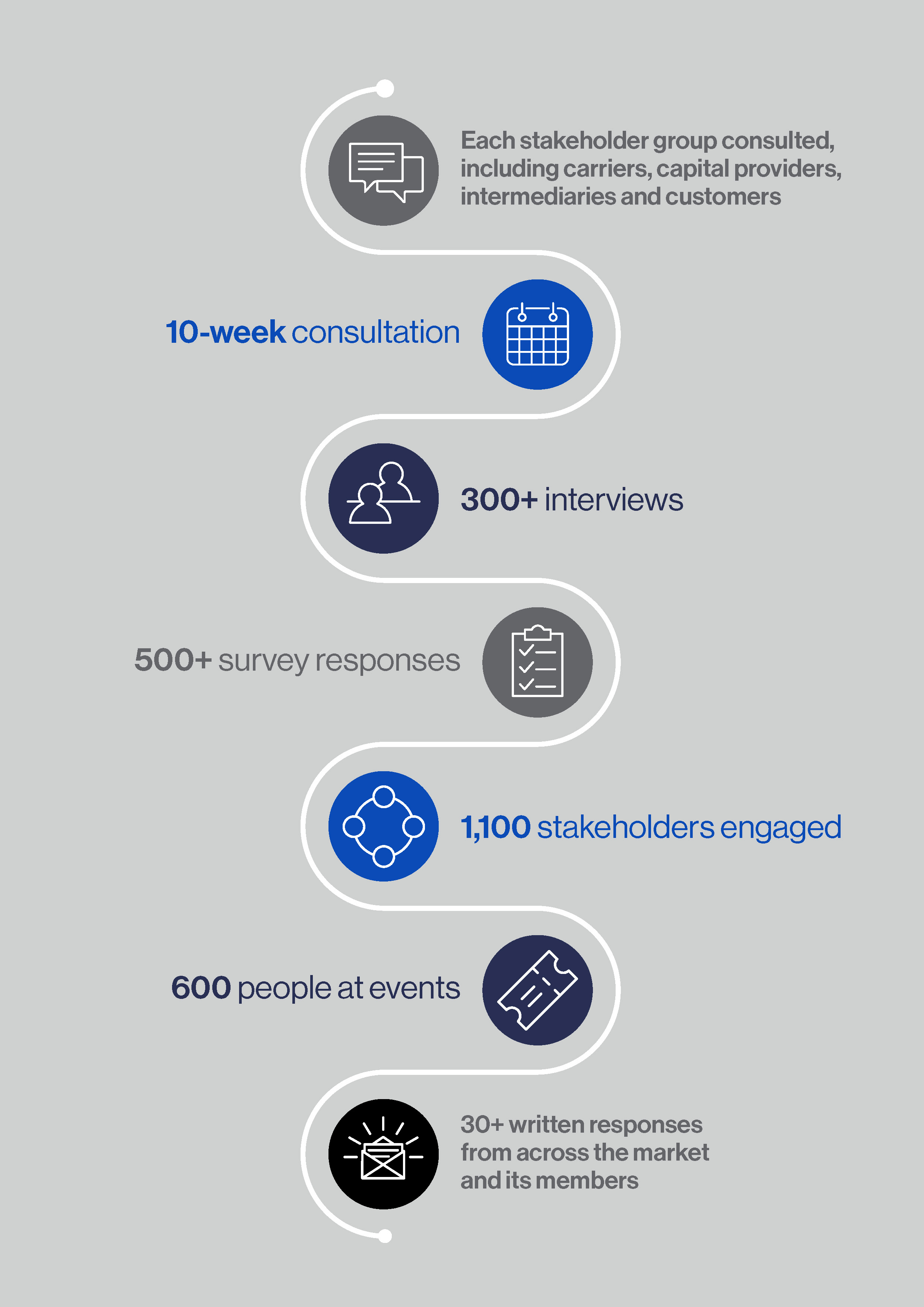 Our route to
Blueprint One
On 1 May this year, we published our Future at Lloyd's prospectus that set out a vision for transforming the Lloyd's market. In it, we committed to producing a blueprint that showed how we would achieve it.
The prospectus was our response to the sense that Lloyd's, just like the insurance sector in general, is in danger of becoming less relevant and helpful to our customers. This at a time when their needs are changing and we need to improve our performance.
The Future at Lloyd's work began prior to the prospectus in October 2018 with us asking these customers, as well as our managing agents, brokers, coverholders coverholders and capital providers, how we could build a successful Lloyd's market for the future.
You told us we should build on the market's many strengths, while acknowledging that some of our historic, unique selling points no longer differentiate us as they used to. You told us to be more customer-focused. You told us that while we should be brave and bold in our ambition, we must phase our plans thoughtfully if we are to deliver it successfully.
We used this feedback to redefine our value proposition (see right) and bring Lloyd's unique qualities to the fore.
You also told us to think about how we could transform the Lloyd's marketplace to enhance our value proposition for our customers. In the prospectus, we said we would do this by offering even better insurance solutions, simplifying access to products and services, reducing the cost of doing business, and building an inclusive and innovative culture.
We suggested six potential, transformative ways we could achieve this and between May and July this year we consulted across the insurance industry to test, challenge and refine these ideas.
Your responses have been overwhelmingly positive, accompanied by constructive suggestions which we have been using over the past few months to develop the solutions for the Future at Lloyd's.
Blueprint One presents the results of this work and our action plan going forward.
Choice

:

the world's largest insurance marketplace and global distribution network, competing and collaborating to share risks.

Confidence:

paying all valid claims, protecting people, businesses and communities, and, most importantly, helping them recover in times of need.

Partnership:

a market built on trusted relationships and mutual respect in order to best serve our customers.
Expertise:

bringing together leading talent and expertise to create innovative risk solutions for customers.

Insight:

Lloyd's insight, experience and judgement informing decision-making, enabling innovation and ensuring our customers stay protected.

Ecosystem:

as a marketplace, Lloyd's provides consistent standards and shared business services, improving performance and unlocking new opportunities.